Meat Quality And Nutrition

Many consumers know that beef is a valuable source of dietary iron, zinc, and protein, and understand the benefits of these nutrients in their diet. Yet a growing number are concerned about the amount of fat and cholesterol that is often associated with meat products. They also want a product that is lean and lower in calories while remaining tender and flavorful.
Piedmontese beef delivers on all! This beef is lower in fat, cholesterol, and calories than conventional beef, while providing the tenderness and flavor that consumers desire, but it also benefits the producer. Quite simply, cattlemen receive more meat per carcass, with less waste from fat and bone.
What makes the Piedmontese cattle different? It is the C313Y Myostatin gene. The gene encoding myostatin was discovered in 1997 by geneticists Se-Jin Lee and Alexandra McPherron. Myostatin is a protein produced and released by myocytes that acts on muscle cells' autocrine function to effect muscle cell growth and differentiation. After that discovery, several laboratories established the nucleotide sequence of a myostatin gene in Piedmontese cattle. They found naturally occurring mutations, which lead to the absence of functional myostatin.
A full blood Piedmontese will always carry 2-copies of the C313Y Myostatin gene, while a crossbred may carry 1 or 2 copies. Unlike traditional breeds the Piedmontese beef does not rely on fat marbling to achieve tenderness nor does it require electrical stimulation, tenderizing or meat needling. "Piedmontese cattle are an Italian breed with 11.5 more lean meat than Hereford and Angus. Their offspring produce lean, exceptionally tender meat." (Dr. Cundiff of the USDA MARC Center)
Research conducted by the United States Department of Agriculture (USDA) at the MARC Center compared eleven breeds of cattle. The results of these studies confirm that not only is Piedmontese beef genetically lower in fat than other breeds, it had the lowest fat thickness, and the greatest tenderness, of all the breeds in the study. Results also showed that the average Piedmontese steak was almost 70 grams heavier than the Hereford-Angus cross steak (357.1 grams compared to 288.3 grams) which is expected due to larger rib-eye areas on Piedmontese.
Another benefit of Piedmontese beef is reduced cooking time. In fact, when using Piedmontese beef, cooking time is reduced by about half. The cooking rate for Piedmontese is 9.2 grams per minute compared to 8.3 grams per minute for Hereford-Angus.

Click Photo for Larger View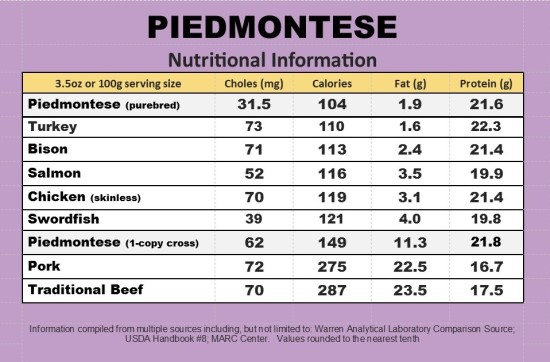 Meat Samples Sheet